Title:
Empty Without You
Author:

kittys_devil
Artist:

qafmaniac
Type:
Romance, crossover
Word Count:
6200
Rating:
NC-17
Characters/Pairings:
Isaac Lahey/Stiles Stilinski, Tommy Joe Ratliff/Isaac Carpenter
Warnings:
strong language, past abuse, panic/anxiety attacks
Summary:
Stiles' plan for himself and best friends did
not
include the Army. When Isaac and Carp enlisted everything changed, and the four friends had to adjust in ways they hadn't expected. Distance, the past and the pull of the pack all add to the pressures of their separation.
Author's notes:
Written for

twbigbang
. Fill for

fanfic100
, life. Thank you to

tommyglitter
and

casey270
for the amazing beta work and making this so much better. Make sure you check out the art and mix that

qafmaniac
made for this! I couldn't have asked for anything more perfect!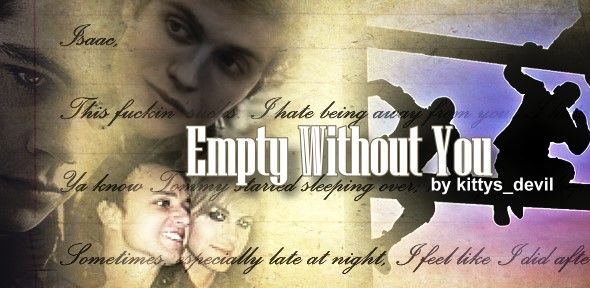 Link to fic master post:
LJ
|
DW
|
AO3
Link to art master post:
LJ
|
DW